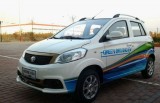 Permanently on-line! Permanently updated!

Unlimited access FOR ONE YEAR (pdf file), the catalogue is updated each month and is accessible with a password.
over 300 brands (ALL CHINESE ELECTRIC CAR producers)
more than 1100 vehicle types (and a lot of different versions) with color pictures of each model
LSEV (low spoeed electric vehicles) and NEV (new electric vehicles)
over 600 pages
full factory addresses, telephone, fax, email and websites
short history of the brand
picture of each product
technical information of each product
Priceless, and we sell it for 149.- euro!
FREE PREVIEW - download here and view a selection of sample pages from our Catalogue of Chinese Electric Cars.