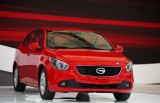 Permanently on-line! Permanently updated!

Unlimited access FOR ONE YEAR (pdf file), the catalogue is updated monthly and is accessible with a password.
over 100 brands (all Chinese motor car producers)
more than 400 vehicle types (and a lot of different versions) with color pictures of each model
over 400 pages
full factory addresses, telephone, fax, email and websites
short history of the brand
picture of each product
technical information of each product
production statistics of cars and manufacturers, 2015, 2014 & 2013
price of each product for the Chinese market in Chinese currency
For companies, we offer the catalogue with the possibility of multiple use from different computers for 389.- euro per year, for private persons for individual use the price is 99.- euro per year.