What we can do for you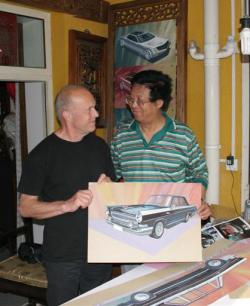 What do we do?
We collect all kinds of information about the Chinese automobile industry, present and historical
We have a large library of Chinese automobile reference material and own a large photo-collection of Chinese cars, collected since 1973 and updated each year.
We publish regularly in European and Chinese car magazines.
We produced the Chinese entries of the Beaulieu Auto Encyclopaedia that was published in 2000. The Society of Automotive Historians has awarded the Beaulieu Auto Encyclopaedia the Cugnot Award.
We are contributor to the honourable Swiss Katalog Der Automobil Revue/Catalogue de la Revue Automobile.
We are a member of the China Hong Kong Red Flag Club, the International Beijing Jeep Owners Club and the Society of Automotive Historians.
In 2004 the centre moved from the Netherlands to France.

We offer you:
The History documents, a series of books about the history of the Chinese car industry, already four for sale: Hongqi, Shanghai, Beijing/Tianjin and Pre-War Made in China.
A fifth history document decribes the North Korean auto industry: "Automobiles Made in North Korea". Some of the photos printed in this book you can find on our picasawebpage.
The Businessservices: we offer our rich knowledge and good Chinese contacts for business purposes, please contact us with your wishes.
Permanently free on-line: "EuroNCAP", "Lawsuits", "Chinese car museums" and "Links".
An overview of what they have written about us and what we have written: CMVDC in the press.