What we can do for you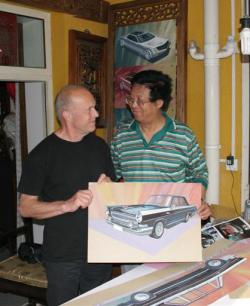 What do we do?
We collect all kinds of information about the Chinese automobile industry, historical
We have a large library of Chinese automobile reference material and own a large photo-collection of Chinese cars, collected since 1973 and updated each year.
We publish regularly in European and Chinese car magazines.
We produced the Chinese entries of the Beaulieu Auto Encyclopaedia that was published in 2000. The Society of Automotive Historians has awarded the Beaulieu Auto Encyclopaedia the Cugnot Award.
We were contributor to the honourable Swiss Katalog Der Automobil Revue/Catalogue de la Revue Automobile and to the Autokatalog of the magazine Auto Motor und Sport.
We are a member of the Society of Automotive Historians.
In 2004 the centre moved from the Netherlands to France.

We offer you: